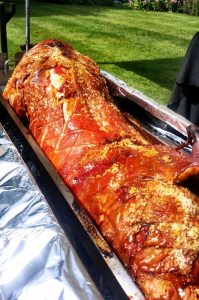 For many years now, we've been creating tasty, homemade dishes out of fresh, local, quality ingredients and satisfying hunger both near and far. If you're planning your own event or party, whether it's a birthday party, christening, corporate event or wedding meal, or anything else that you can think of where delicious food is served, Hog Roast Lancaster can help you to make it a truly great success. We're professionals with plenty of experience and tons of knowledge and we're dedicated to providing the catering for all kinds of functions, regardless of size, formality or location. We've catered huge events and small parties, from formal multi-course meals in posh hotels to informal get-togethers in someone's back garden. We don't just cook amazing hog and spit roasts, either – we have so much variety and choice that you won't believe your eyes!
Your Party, Your Food, Your Choice
We believe that the customer should choose the food they want served at their event, and that means Hog Roast Lancaster offers various menus and options to ensure that everyone is well-fed on the day. While we make a mean or spit hog roast, we could cook you a barbecue or our Southern Slow Roast Menu instead. If you'd like multiple options, we have meat, fish, vegetable and potato dishes, with something for everyone's tastes and if any of your guests need a special diet catering, like vegetarian, vegan or gluten-free, we have various options that our dedicated chefs can whip up, having done so for a long time already. We're an inclusive caterer, so that means we're highly flexible when it comes to what you'd like to be served, as you can mix and match our menu items, or you can even create your own bespoke menu if you prefer.
The Best Hog Roasts In Lancaster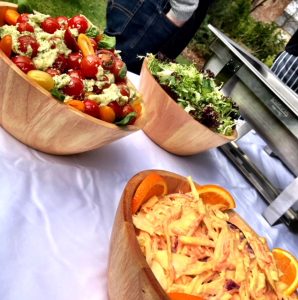 Hog Roast Lancaster is proud to make the best hog roasts in town after spending years perfecting them. We only use top-quality meat from trusted suppliers, lovingly preparing it on-site at your venue to ensure freshness, and then roasting away for hours and hours until it's perfectly juicy and tender inside and with a crispy, salty outside. The slivers of meat will melt in your mouth and you'll love the crunchy crackling, too. Thousands of satisfied customers can't be wrong, so try one for yourself today!