Lancaster's Most Renowned Hog Roast Caterer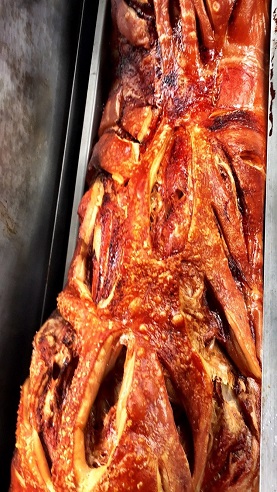 Hog Roast Lancaster are at the forefront of hog roast catering in the local area. We have the experience, passion and knowledge to provide superior catering packages for any type of event you can think of. We have perfected the age-old method of slow roasting meat because there is no better cooking technique for maximising its natural succulence and depth of flavour. When this unrivalled cooking method is combined with our contemporary menus and the most advanced hog roast catering equipment on the market, the results speak for themselves. We have made a lot of people very happy with the quality of our premium ethically reared meat over the years and if you choose us to cater for your event, we're sure that you will be just as delighted with what we have to offer.
Catering Available for Every Event
The cooking technique we have adopted may have ancient roots but Hog Roast Lancaster's menus and approach to catering are far from outdated. Our modern menus accommodate all tastes and dietary requirements and offer a selection of different meats, as well as meat and dairy-free dishes. In addition to providing our classic hog roasts, we also offer a multitude of buffet and 3 course meal menus that are perfect for any event including wedding receptions, birthdays, graduation parties and corporate events.
We will do all of the hard work for you but we will also liaise closely with you to ensure everything is exactly how you would like it to be and we are happy to make any adjustments that you require in order to give you a truly bespoke catering package. If you have a formal event in mind, we can supply additional staff if you would prefer a sit-down meal with table service and  a stylish canape welcome reception because we have our own events team who are all dedicated to making sure everyone has a great time and a positive dining experience.
Why Hog Roast Lancaster? 
The Hog Roast Lancaster team are capable of catering to an optimum level in any location in Lancaster. Our food is ideal for large outdoor events, but we can cater to the same high standard for smaller parties in indoor venues. We have a range of state-of-the-art catering equipment that is suitable for use in all manner of environments whilst always performing at peak capacity wherever we are cooking.
Our catering team are equally up to the task of producing excellent food in any setting, so much so that we are able to freshly prepare every dish on our extensive range of menus on-site regardless of how many people we are catering for or the location of your event. We are also very discerning about the ingredients that go into our freshly made dishes and we only ever select the best locally sourced produce and ethically reared meat. No matter how many dishes we are preparing, we will always be ready to serve right on cue and every element of your menu will be immaculately presented by our multi-skilled catering team.
Hiring a Hog Roast Machine in Lancaster
If you would like to create your own memorable hog roast experience for an event you are hosting by doing the catering yourself, we can assist you in fulfilling your culinary ambitions by enabling you to hire one of our own hog roast machines. We will give you all of the support and information that you require to be able to operate it confidently and we will also deliver the machine to your venue, collect it again after your event and even take care of cleaning it for you. With one of our advanced pieces of equipment at your disposal, cooking up a storm for your guests couldn't be easier. Even if you have never attempted a hog roast before or even done your own event catering at all, you will be pleasantly surprised by how simple our equipment it to operate. After a bit of help from Hog Roast Lancaster's expert team, you will be up and running and giving your guests a treat to remember as they tuck into some of your perfectly cooked pork. You will be able to impress your guests with your cooking skills whilst our roasting machine does all of the hard work for you.
When it comes to event catering in Lancaster, the Hog Roast Lancaster team have all bases covered thanks to our unbeatable hog roasts, creative menus that offer something for everyone, and the option to hire one of our machines for yourself.