Lancaster's Most Renowned Hog Roast Caterer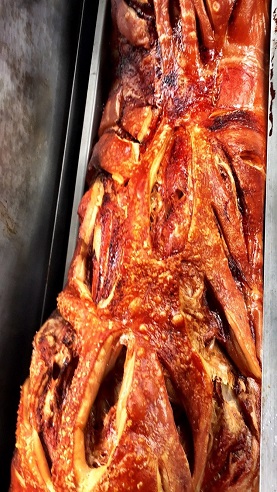 Hog Roast Lancaster aims to fill the bellies of you and your guests with locally sourced, freshly prepared and finely cooked hogs! We provide an unmatched hog roast service where our professional chefs and caterers are solely committed to looking after the dining needs of your guests.
With our experience, you can be assured that you are in the best hands when it comes to organising food for your event. From small intimate gatherings to larger corporate events, we can come up with a package that will suit your requirements and, most importantly, your budget.
So, next time you are planning an event for a family member, a friend or even yourself, you can contact Hog Roast Lancaster to help you feed your hungry guests. Providing a trustworthy service that you can rely on!
Catering Available for Every Event
Hog Roast Lancaster can provide you with a spit roast pig, chicken, turkey, lamb or rib of beef – your choice of meat will then be perfectly roasted to your requirements. In addition, we can provide the appropriate accompaniments such as stuffing, sauces and salads. Have a look at some of our sample menus to see the vast selection of food choices available to you, let us know what you would like and let us take care of the rest!
We have seen and done it all – so, whether you are organising a large and lavish affair or a small family gathering or something in between, we can provide a dining solution that's unbeatable in terms of taste, quality and price.
Why Hog Roast Lancaster? 
Lancaster is a large, beautiful city located in the North West of England. It has a background of medieval times and is home to the historical castles and museums that tourists visit each year. The city is made up of cobbled streets, long rural walks, tranquil rivers and of course, Lancaster University. With an education establishment in the centre, the nightlife in Lancaster is also very vibrant. Hundreds of students are housed in accommodation and fill the streets with cheerful celebrations throughout the week.
No matter what day you visit, the atmosphere in the city is alive. As well as its colourful community, the city is home to the best British hog roasting company, Hog Roast Lancaster. We are made up of individual professional's that come together to create a fantastic, dedicated team.
Regardless of the weather, our team at Hog Roast Lancaster will drive with their kit and cater for you. We have even been known to get through the freezing snow just to ensure our customers are happy. The five-star reputation does not go unnoticed within the community and positive reviews are heard all over the city.
Hiring a Hog Roast Machine in Lancaster
Why not impress your friends by operating one of our very own hog roast machines? We can provide you with a fully equipped hog roast machine complete with gas bottle directly to your venue so that you can get into immediate action! You can choose one of our own freshly prepared hogs or choose to roast your own – the choice is yours. Our easy-to-use hog roast machines are extremely popular and are an excellent talking point for any gathering.
Contact us today and we will talk you through the various options that are available to you. Whatever your decision, we'll ensure that your event catering is organised with as little hassle as possible.