Lancaster's Most Renowned Hog Roast Caterer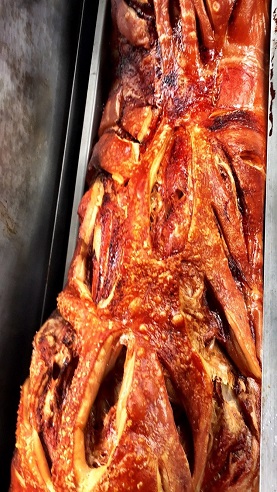 From Gothic cathedrals to medieval castles that once housed royal figures, Lancaster is a city where the ancient structures and landmarks, which adorn almost every street, paint a very vivid picture of our history. And here at Hog Roast Lancaster, we are paying homage to our roots by bringing the best-loved tradition of spit-roasting into the 21st Century with our innovative catering techniques!
Labelled as the number one mobile catering service in the vicinity of Lancaster, our team of experts radiate passion, enthusiasm and professionalism; guaranteeing you a positive group-dining experience that your guests will thoroughly enjoy from start to finish.
So, no matter what event you've got planned, how many guests you expect to attend or what dietary requirements you need us to cater to, know that you can always count on Hog Roast Lancaster to deliver an exceptional meal. You'll find that our comprehensive menu plans are suited to every palate, and we are delighted to offer fully customisable catering plans, which are sure to make your special occasion all the more, well, special!
Discover Hog Roast Lancaster today, and get ready for the catering experience of a lifetime! Feel free to call our team for more information, or simply, use the contact form on our website and we'll get back to you with a quote.
What Makes Us Different?
We know how hard it can be to find the right hospitality service for your specific needs; especially since the internet is filled with horrifying tales of shoddy caterers! But rest assured that Hog Roast Lancaster run an entirely different kind of business.
Our focus, above all else, is on providing you with a spread that you can be proud of; and we'd never serve you something that we wouldn't eat ourselves. For this reason, we are committed to making all our meals from scratch on-site (nothing is pre-made) in the hours leading up to your event, so you can always expect to enjoy fresh-tasting, delicious food when you book with us.
In addition to this, we take great care to hand-source quality, farm-fresh ingredients from local crofts, which plays a crucial role in the final result of each dish we create.
To help you get the most out of your event, our team will listen to everything you have to say, and from there, we'll help you choose from our menu selection, or come up with your own entirely bespoke catering package if that's what you would prefer.
Inclusive Catering For All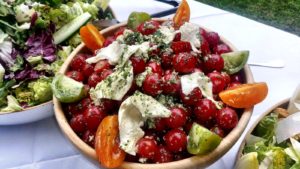 While we love nothing more than biting into a crunchy roll filled to the brim with juicy hog meat and all the extra trimmings, we completely understand that for a range of reasons, hog roasts might not be everyone's cup of tea. But instead of neglecting those with different dietary needs, we've eagerly expanded our services in the hopes of making everyone feel welcome!
We're proud to offer a vast selection of meat and fish options, along with wholesome meat-free dishes, featuring yummy veggie kebabs with Greek halloumi cheese, tzatziki dip and flatbreads; BBQ pulled jackfruit wraps and more! Many of our dishes are gluten-free too, so even if your guest list included people with varying dietary requirements, we are quietly confident you'll still find your perfect menu right here at Hog Roast Lancaster!
Hire A HogMaster!
Not only are Hog Roast Lancaster unique in our serving approach, but we are also the manufacturers of the most advanced spit roasting equipment in all of Europe!
Our time-served chefs rely on a broad selection of machines, which are made right here in our own UK-based factory, to help them effortlessly execute each one of our flavoursome dishes. But did you know that our devices are also available for rent or purchase? Yep, it's true!
Whether you're an ambitious home cook hoping to impress your guests with a stunning feast, or a talented chef with dreams of branching out and honing a new skill, our machines offer the perfect introduction to hog roasting. Complete with gas canisters, fresh ingredients and even dining furniture, cutlery and crockery, we can kit you out with everything you'll need to pull off a gorgeous banquet; including a hands-on tutorial!
It won't take long for you to become familiar with the apparatus, as by design, all of our machines are user-friendly – even if you're a complete novice. To make things even easier, we also sell a range of add-ons and accessories, which can assist with cooking all sorts of side options.